Life Giving Tuesday CCBR
Created by : Loretta Slomp
Imagine a country where every life is valued from the beginning - a country where abortion is unthinkable!
Minds are being changed & lives are being saved through our projects each day – one person at a time. With nearly 300 abortions taking place every day (100,000/year) in Canada, this situation is urgent! We need you to help us grow so together we can EndTheKilling.
We are hosting a special livestream event on GivingTuesday which is December 1st this year. Fundraising efforts kick off now and we invite you to partner with us today to raise $40,000 through the coming weeks, towards the expansion of our work to save lives and see an end to abortion in Canada. We have a few exciting ways that you can join us this year:
Financial Partnership: Any gift, small or large, makes a lasting impact! Donate today!
Matching Gifts: Your gift could motivate other donors. For example, if you commit to matching donations up to $5,000, then your commitment will inspire $5,000 in giving from others! Contact us to learn more and to set this up!
Peer-to-Peer Champions: Want to make a bigger impact than just your own donation? Join us by inspiring your friends to give! Create a personalized fundraising page and invite your network to join you. Suddenly you've helped raise $2020 towards our 20-20 goal! Set your own financial goal & we will provide online resources for you to share. You can even grab a friend and do this as a team. Click the peer-to-peer button to the right and get started today!
Feel free to donate here or on our website any time between now and Dec 1. If you do so on the CCBR website please select the allocation "Giving Tuesday".
Please note: CCBR is a non-profit organization, but not a registered charity.
----------------------------------------------------------------------------------------------------------------------------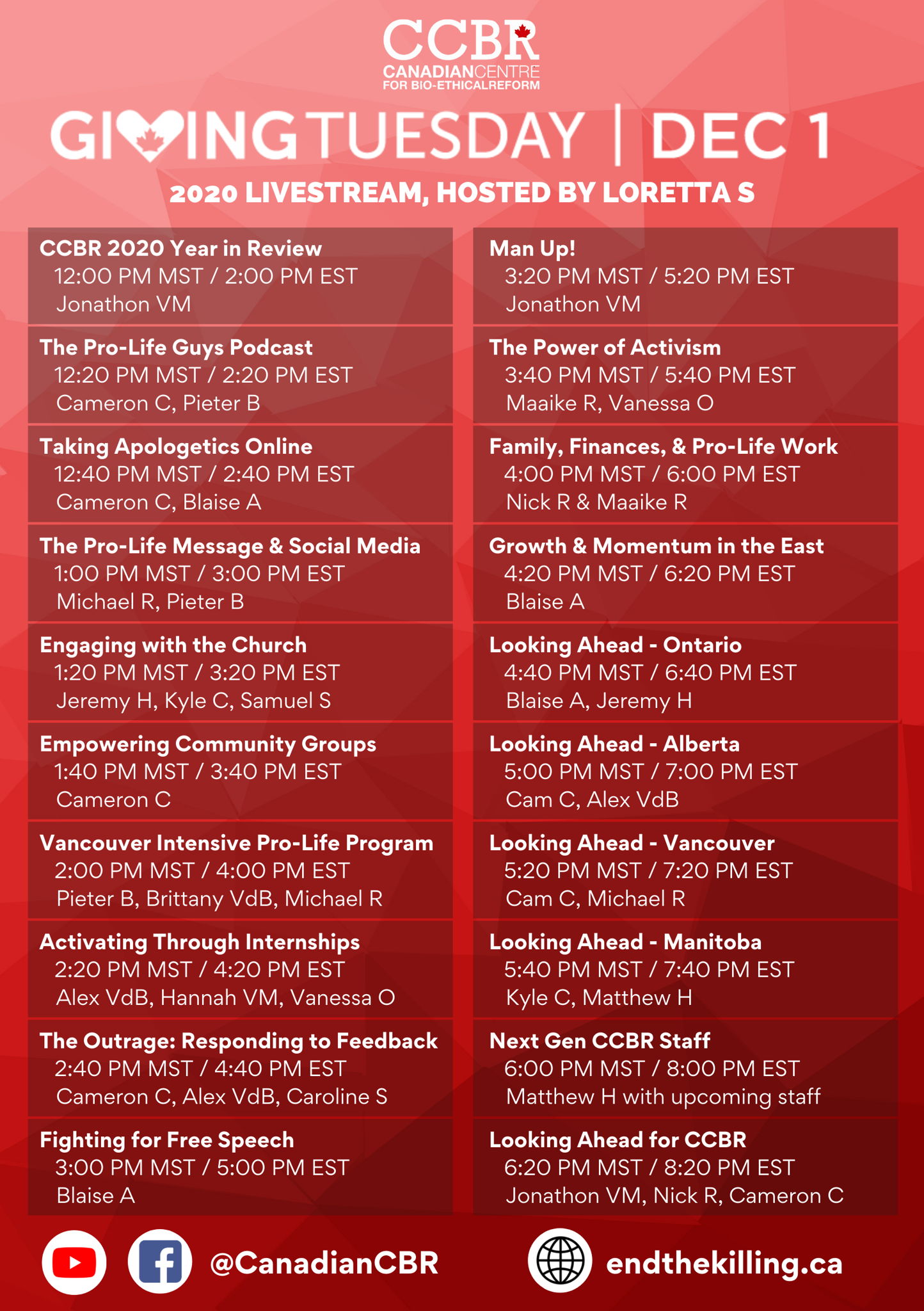 Please check back soon for further details & sign up for livestream and campaign email updates!

Livestream Schedule - Available Now!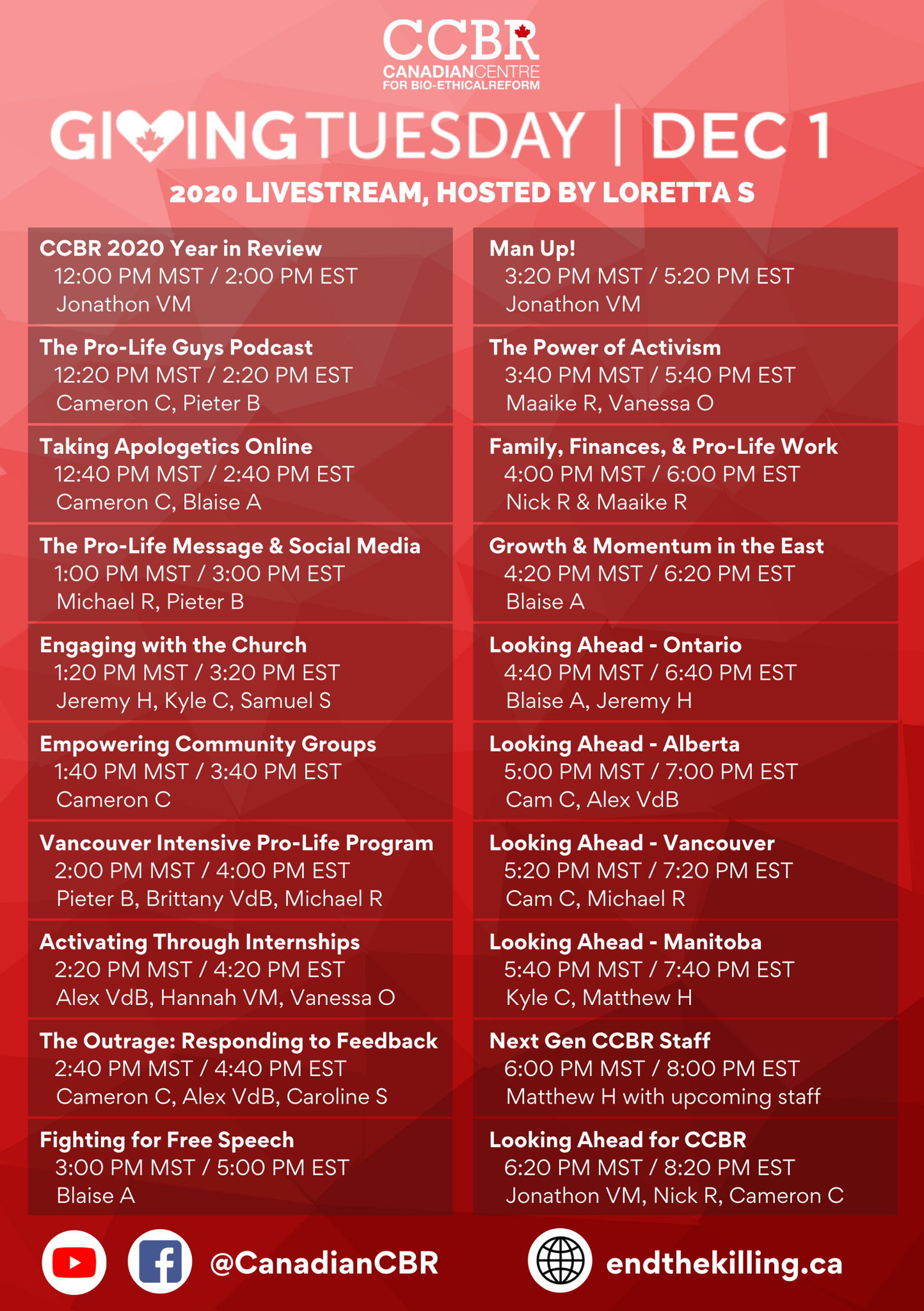 Matching Donor Secured!
11/09/2020
We have a generous supporter who has agreed to match up to $5,000 of donations so don't hesitate - donate today!
Exciting P2P Update!
As of today, we have 3 of our favorite friends who have officially started peer-to-peer campaigns! We are so excited to have you partnering with us to reach our fundraising goals and help CCBR grow our team and projects!
PRIZING - Yes there is prizing for our P2P friends.
- Launch & run a P2P campaign for us: Prolife Guys Mug filled with goodies
- Achieve your goal: Add on a CCBR book of your choice!
- P2P campaign that raises the most: Add on a CCBR event registration valued up to $150 (regular application process required)
1. Can I donate offline?
Yes. Cheques made out to CCBR can be mailed to CCBR, PO Box 98206 Falconridge PO, Calgary, AB, T3J 0K6. You can also send an e-transfer to email@endthekilling.ca.
2. If I donate offline, will it go to the campaign?
Yes. As soon as we receive the donation we will enter it in the campaign totals. Feel free to message us with the "Contact Organizer" button to the right or email us if you want us to know about it before it arrives.
3. Can I allocate my donation to a staff member?
We appreciate your support of our staff salaries and you can donate to them, but for this campaign we are focusing on our general fund which funds all of our projects.
4. When will the livestream schedule be announced?
We are working on our topics and schedule and will post it as soon as it's ready. You can sign up to receive an email update at the bottom of our "overview" page.
Giving Levels
What your donation accomplishes:
Donors 60
---
$ 35 CAD

Anonymous

3 days ago

$ 25 CAD

Anonymous

4 days ago

$ 100 CAD

Anonymous

4 days ago

$ 100 CAD

Anonymous

4 days ago